Caravan loans
Getting ready to take a holiday in a new home-away-from-home? Get the right loan for your needs with better. Sharp interest rates, fast approvals and a simple application. Get holiday-ready today.
6.95% - 10.95% p.a.
Interest Rate Range - disclaimer: The actual interest rate charged to you will depend on your personal circumstances, the type of lending required, the security provided and is determined by the lender. Standard lending criteria, terms, conditions and fees apply, including an establishment fee of up to $995 applies.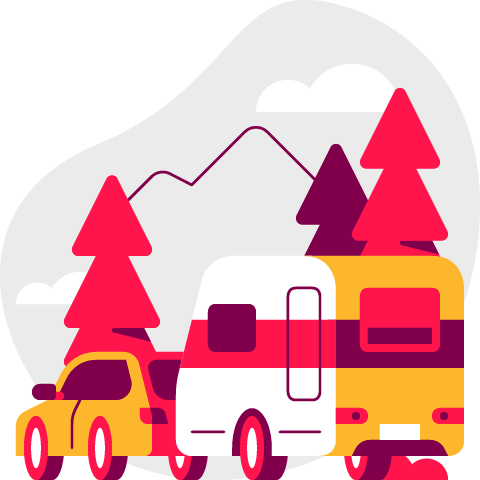 Our benefits
The better way to get on the road
Low Fixed Interest Rates
From the least to the most you could expect to pay, we tell you straight away. No hidden rate ranges. No surprises.
$0 Deposit Finance
No deposit needed to get you on the road. Secure finance with zero deposit and get the caravan you keep dreaming of.
Save On Interest Costs
The better way - Make lump sum payments when it suits you. Pay off your loan faster and save interest. That's better borrowing.
Like to run your numbers?
Calculate your repayment estimates and more.
We're minutes fast.
We keep it breezy
We built our approach with you, and your time, in mind. If you're looking for a fast approval decision, we can have an answer in minutes. Plus, at better there's no need to email bank statements or copies of your ID - our smart tech does the work for you, saving you time and hassle. From our quick three-minute application, right through to transferring the funds, we've got your time in mind.
We add the
personal touch
We hand-picked our 20+ team with some important attributes in mind: experts at structuring loans for individual needs (of course), and folk that love chatting with customers, to get to the heart of what will work for their specific needs.
When you apply with better, you'll get a call from one of the team to talk through your needs and discuss your personalised rate. It doesn't take long, but in our book, it's the most important step in making sure you get the best out of better lending.
We champion
better-borrowing
We took a good look at lending, and came up with something better.

Like to pay off your car loan faster? We've designed loan features to help you do just that. Like to know what you're signing up for with no hidden surprises? That's how it should be. And like to put your money on principle and interest, not a long list of ongoing fees? We agree – there's no ongoing fees with better; not one.
What can we help
you make happen?
Big goals, personal possibilities and everything
in between. How can we help you?
Apply in three minutes
Fast application decisions
Smart loan features to help pay off debt faster
No deposit finance available
Leading low interest rates and no surprises
Funds transferred in less than 24 hours
FAQ
Caravan loans – the details
Being better informed makes for better decisions. Have a question or two? Check out these helpful FAQs or get in touch with the team.
How much can I borrow?
Our minimum loan amount is $3,000 and maximum is $100,000. How much you can borrow within this range depends on your personal circumstances and affordability. It's important to borrow only what you need and to ensure you can comfortably meet your repayment obligations for the term of your loan. Our team is expert at helping you determine your personal borrowing sweet spot.
How long does it take to approve the loan?
We work hard with our clients to collect all the right information up front before we assess the application. Helping us to approve loans faster, usually within the hour.
Can I refinance an existing caravan loan with better?
Yes. You can refinance your loan to a different lender, even if you have finance secured against a vehicle.
Refinancing can be a good option to reduce your annual interest rate, saving you money in the long run and helping to pay off your debt faster.
Be sure to consider fees to repay your existing debt early, and any additional fees in securing the new finance.
What are repayments and what is the frequency?
The repayments of a loan are determined my a couple of factors. Mainly amount borrowed, interest rate and the term of the loan. We have a great calculators for you to run the numbers and see how these factors can suit your budget.
Repayments can be made weekly, fortnightly or monthly via direct debit.
Can I pay off my caravan loan early?
Yes, here at better we are proud of the tools we have to offer to help our clients pay off their debt faster and get debt free earlier.
Some lenders will have fees and charges within their loan contracts if your loan is repaid before the term of the loan. So talk to your business manager to find our more information.
Have a question? We're here to help
Our 20+ strong team are better-borrowing champions – we're for any questions, big or small.
One of the team will call you asap within business hours
1.* Rates of 6.95% subject to lending criteria and eligibility. 1 hour approval and same-day payout subject to the applicant meeting the lending criteria and supplying all the required information to process the loan application.
2. Our lender will independently assess whether you are eligible for a loan. We don't provide advice on whether a particular car loan offered by a lender is suitable for you.